09/20/2009
Death notice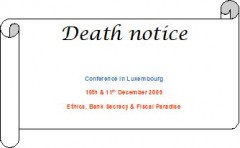 I have visited yesterday the LIGFI (Luxembourg Institute for Global Financial Integrity) website.
I have noticed that the call for papers for a Conference in Luxembourg about "Ethics, Bank Secrecy & Fiscal Paradise" that was scheduled on 10th & 11th December 2009 is no longer advertised online.
Before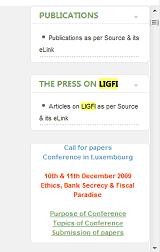 Now

When the LIGFI was launched in May the press release stated the institute would initiate its first open dialogue within the global financial sector and with public and private institutions by organizing a Conference on "Ethics, bank secrecy and fiscal paradise" in Luxembourg on the 10th and 11th of December, 2009.
The purpose of the Luxembourg Institute for Global Financial Integrity is to address with its members, in all impartiality and independence, ethical conduct and its standards and practices in regard to the principles of integrity, which are fairness, transparency, responsibility and accountability (See mission statement)
Unfortunately, in the meantime, a critical report about Luxembourg was victim of censorship under a scandalous pressure on NGOs in a democracy. The report that is perfectible (figures cannot be accurate as data are under banking and professional secrecy) but it addresses key issues. It was withdrawn and repudiated by the Cercle de Cooperation, that ordered the study.
Additionally the press reported that a preliminary report by the Financial Action Task Force FATF is very critical about Luxembourg. Professionals and politicians fustigate the lack of professionalism of the FATF team members and/or the bad faith. They only forget the visible permissiveness in the center:
- No criminal liability of legal persons despite and injunction last year
- 50% of banks never report any declaration of suspicion
- Many companies have a statutory auditor that is neither member of the IRE nor the OEC. There are many statutory auditors from "exotic jurisdictions" that only exist in the Luxembourg Corporate Registration.
- Very little cases before the courts: because of the small size there are many conflicts of interests, many cases of "professional incest". The direct consequence is the small number of crime cases or corruption cases, which are of concern in official reports: "The scarce number of financial crime cases is of concern, particularly for a country that has such a large financial sector." (Cf. p. 342 of the Narcotic Control Strategy report 2009); "the number of cases coming before the courts appears to be very small", particularly because of lack of legal and other resources, and the ease with which companies can be established in Luxembourg." (Cf. page 18 of the GRECO PHASE III Report "Criminalisation of corruption" [theme I] in Luxembourg).
- Ratios that do not comply with international benchmarks (little control and little sanctions compared to other jurisdictions including Monaco)
- Professionals are bold enough to state they influence the regulator. I have no problem for a consultation in the drafting of laws and regulation. But the problem in Luxembourg is that professionals' opinion is practically an assent.
The list is not exhaustive.
But let's go back to the LIGFI: as the LIGFI team members live in the bowl they did not know that such body already exist since September 2006: Global Financial Integrity was launched in September 2006 following the publication of Capitalism's Achilles Heel: Dirty Money and How to Renew the Free-Market System, (John Wiley & Sons 2005), written by Center for International Policy Senior Fellow Raymond Baker. This book demonstrates that the problem of illicit financial flows, and the financial infrastructure supporting it, is enormous. For example, some 70 tax havens and secrecy jurisdictions are in operation across the globe and millions of dummy corporations shield owner's identities. And the scourge of dirty money is getting worse. Indeed, global corruption has not diminished despite ten years of effort, assets now stashed in tax havens around the globe are estimated at $11.5 trillion, and non-bank cash deposits outside the country of origin are rising. Global Financial Integrity (GFI) promotes national and multilateral policies, safeguards, and agreements aimed at curtailing the cross-border flow of illegal money. In putting forward solutions, facilitating strategic partnerships, and conducting groundbreaking research, GFI is leading the way in efforts to curtail illicit financial flows and enhance global development and security.
This body has just completed a conference on "Increasing Transparency in Global Finance: A Development Imperative":
The findings are that « The massive flow of illicit money out of developing nations, estimated at some $1 trillion per year, outpaces current levels of foreign aid by a ratio of nearly 10 to 1. Consisting of tax evasion, tax avoidance, and criminal and corrupt funds, this phenomenon is the most damaging economic condition hurting the global poor.
Therefore, the Task Force calls on the G-20 nations to recognize publicly that the flow of illicit money out of poor countries, facilitated by the global shadow financial system, cripples the ability of these countries to work their way out of poverty. Recognizing this linkage is a vital first step in creating the conditions to eradicate poverty in developing countries. The second step is taking action to stop these flows. »
By the way it is exactly the issue that was raised by Rainer Falk's report.
I with politicians and professionals in Luxembourg had been clever enough to accept the report and take relevant actions to be done as suggested by Egide Thein.
As long as the powers that be in Luxembourg will not recognize that they can no longer misinform the general public by adding further layers of propaganda when independent observers and customers worldwide are waiting for real answers to the legitimate questions raised, they increasingly expose themselves as apparatchiks unable to understand the signs of the time. By remaining in their bowl, they may very well be digging their own graves. Waiting until the storm is over and go back to business-as-usual seems to be the only guideline currently permitted in Luxembourg, where any form of criticism may lead to professional suicide. Is time running out for Luxembourg? If groups like LIGFI are continuously allowed to insult any independent observer's intelligence, this may very well be the case. You can fool some people some time, but you cannot fool all the people all the time!