08/06/2012
To whom it may concern in Luxembourg: You liked the Madoff affair; you will enjoy the Apollonia Affair
There is currently a very huge issue in France in the real estate sector with notaries, bankers and other professionals involved in a massive fraud.
Like for Madoff that was an American issue for some in Luxembourg some (the same?) might say it is a French issue. I am afraid not.
Guess where the money went?
LUX-EM-BOURG of course.
Once more, still and always the same destination that is said to be "business friendly".
I keep saying that the Corporate Registration is a mess with many red flags and those who leave this mess by not controlling or not willing to control what is going on are responsible for every case involving Luxembourg with a bad reputation of tax haven: not as a country where there is no tax, but as a lax jurisdiction, "business friendly" some say, with definitely a collateral damage for the financial sector.
Let's have a look on the company in the Memorial C: BO&ZIN S.A. (R.C.S. Luxembourg B 125.374.)
As usual I can see the same kind of red flags when I analyze the publications
The company was created on 14 March 2007 by a French couple residing in Switzerland and represented by a Belgian citizen.
Directors were:
- ALPHA MANAGEMENT SERVICES (LUXEMBOURG) S.A
- Marc Schintgen
- Michal Wittmann
- KITZ S.A.
The statutory auditor was ALPHA EXPERT S.A. (RCS B 88.567)
Statutes were modified on 18 April 2007The couple was represented once more by the same Belgian citizen.
AUDIT & COMPLIANCE s. à r.l. supervised the contribution of a French company called Apollonia S.A.S. with an increase of the capital (Audit & Compliance no longer exists: it joined PwC)
On 11 July 2008 ALPHA MANAGEMENT SERVICES (LUXEMBOURG) S.A, Marc Schintgen and Michal Wittmann resigned. The couple Jean Badache and Viviane Badache became directors, Jean badache being chairman of the board.
Observations:
It seems that the couple never came to Luxembourg in 2007: they were represented twice before the notary.
At the time of the assignment of AUDIT & COMPLIANCE s. à r. l., the issue was not known. However I wish these experts in compliance (see their PR when the firm was launched) would have been more sceptical ; they should have seen blatant red flags:
Marc Schintgen, director, was as well director of the auditor ALPHA EXPERT S.A. since 30 August 2005 (and renewed late 2007)
ALPHA EXPERT S.A was created on 23 July 2002 by ALPHA MANAGEMENT SERVICES (LUXEMBOURG) S.A. and Philippe Lanciers, who is presented as chartered accountant sales engineer Solvay ("expert comptable, ingénieur commercial Solvay"), which sounds quite strange.
Alpha Expert is registered as Chartered accountant (www.oec.lu), but ALPHA MANAGEMENT SERVICES (LUXEMBOURG) does not seem to be.
ALPHA MANAGEMENT SERVICES (LUXEMBOURG) was the statutory auditor of ALPHA EXPERT S.A, Marc Schintgen being a director of ALPHA MANAGEMENT SERVICES (LUXEMBOURG) …
ALPHA MANAGEMENT SERVICES (LUXEMBOURG) presents itself as a fiduciary: they are neither a chartered accountant, nor a chartered auditor ("réviseur d'entreprises" in Luxembourg)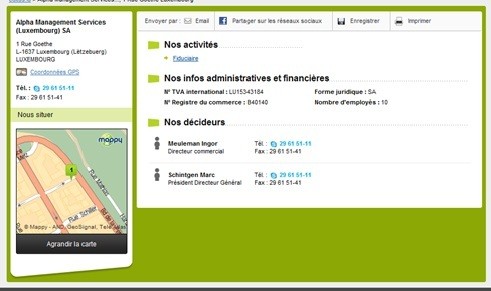 Website of Association Nationale des Victimes de l'Immobilier