07/19/2012
Back on this blog with a telling case in Luxembourg
As I am launching a new company (I will publish soon about it on this blog, but impatient French readers may have a look at the website), what is taking place in Luxembourg is very interesting and corroborates what I wrote in my articles and in my book Vus pas pris ("Seen, not caught"), that was published in 2006.
Last summer I did a study in the Luxembourg Corporate Registration about a business man called Flavio Becca.
I did not know Flavio Becca and had never heard about him.
As I went along the Corporate Registration, what I found was so telling of a way of doing business that I do not like:
- Balance sheets not published,
- Same person being director in Becca's firms and director of the legal person acting as statutory auditor (what about the independence?),
- Ratios
- …
The study was made public by Mouvement Ecologique late September 2011
At this period it was reported in the media that Flavio Becca was under investigation into alleged misappropriation of public property (See Reuters or Wort).
The day after, Mouvement Ecologique published a letter involving some government members, including Prime Minister Juncker, in an active support to Flavio Becca.
The case exploded a couple of months ago when Guy Rollinger, Becca's competitor, said he was forced by some government members to give up his project .
Police announced an inquiry into Becca's affair
Politicians decided finally to hush up the story.
There should be a Chinese wall between the public decision making process and companies, which is not the case in the jurisdiction.
The conflict of interest situation is actually the hallmark of the Luxembourg financial center.
Let's have a look on PwC's brochure: "Why Luxembourg? a unique location to expand your business":
Let's have a look page 8 of the file :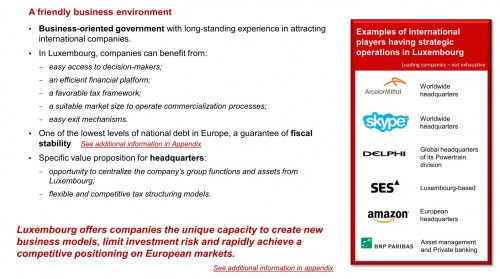 A "business oriented government" means a government that tolerates lax business attitudes.
An "easy access to decision makers" means politicians that vote in favor of the legal and regulatory framework that do not worry professionals as much as in a state that is governed by the rule of law, as police and justice are limited by what is voted for by the legislature.
As far as Justice is limited, there are traditionally two categories of civil servants with judicial authority: those that are said to be "standing up" (public prosecutors/prosecuting attorneys) and those that are said to be "sitting" (judges).
When I see affairs like this one but as well Madoff, Clearstream… , I think that in Luxembourg professionals would prefer a unique category of civil servants with judicial authority: everyone "lying down".
Fortunately, there are civil servants with judicial authority, who deserve respect, like general public prosecutor Robert Biever, who observed last October 2011 that there are too little resources for financial cases and there is a lack of political will to fight financial crime (See Le Quotidien and Paperjam)
And more recently in Becca's affair the former prosecutor Jean Bour observed contradictions and what I consider as unprofessional behaviors for the least.
Besides, there is a very good thing: the media did not hush up Becca's story that is a caricature of what a so-called business oriented government is, including Wort that is said to be close to Government.
I am going to act to contribute to the paradigm shift that is critical to the sustainability of the financial center in a competitive world where professional and responsible attitudes are required.