11/17/2009
CPI: Transparency International smells the coffee
Transparency International today published its CPI (Corruption Perception Index).
The press release admits that the CPI is perfectible:
Financial secrecy jurisdictions, linked to many countries that top the CPI, severely undermine efforts to tackle corruption and recover stolen assets. Corrupt money must not find safe haven. It is time to put an end to excuses," said Labelle. "The OECD's work in this area is welcome, but there must be more bilateral treaties on information exchange to fully end the secrecy regime. At the same time, companies must cease operating in renegade financial centres.
It was reported in september that Dr. Johann Graf Lambsdorff, creator of the Corruption Perceptions Index, would no longer publish the landmark corruption ranking, he had said in an email to the Transparency International network. Lambsdorff wrote: "It is you, the movement, that will have to start anew to educate TI-S to deliver an acceptable product."
Transparency Indernational smells the coffee with financial secrecy.
60% of the top 20 jurisdictions of the CPI are jurisdiction identified by TJN in the FSI (Financial Secrecy Index) table.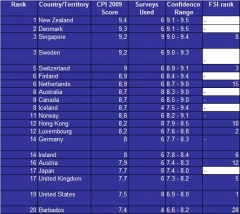 (Click to enlarge)