10/22/2009
Games theory with Luxembourg
Yesterday I quoted European Tax Commissioner Laszlo Kovacs who said that the actions of Austria and Luxembourg were hampering progress in cracking down on global tax fraud, an issue he said was "high on the political agenda of the EU.
The question is: what is to be done to achieve the goal of automatic exchange?
I have an idea: the services of clearing house are done in Luxembourg by Clearstream. Clearstream International was formed in January 2000 through the merger of Cedel International and Deutsche Börse Clearing.
I suggest that EU governements encourage their banks to chose another clearing house for the clearing services, in a jurisdiction that play the truth and fair competition game.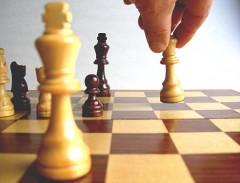 Permission is granted to copy, distribute and/or modify this