07/11/2009
One same idea, two words which change everything
Two leaders, one in in Switzerland and one Luxembourg expressed the same idea, but they used to different words that make the difference.
Last year, Lucien Thiel, who is the former chairman of the ABBL and founder of the LIGFI, stated that "Ce n'est pas notre devoir de contrôler si le contribuable a été honnête" (free translation : it is not our duty to control if the taxpayer was honest)
Today Eric Sarasin, from Banque Sarasin in Switzerland is quoted in Le Temps. He stated that "Nos gérants n'ont pas pour mission de demander à leurs clients s'ils ont payé leurs impôt" (free translation: Our managers do not have the mission to ask their clients if they paid their taxes)
That the same idea but they use a different word that makes the difference: the word "Duty" for Lucien Thiel and the "Mission" for Eric Sarasin.
"Mission means" "4 a : a specific task with which a person or a group is charged" (See Merriam Webster)
"Duty means" "3 a: a moral or legal obligation b: the force of moral obligation (See Merriam Webster)
To avoid troubles with foreign tax administrations, why not introduce in the legislation a control of the client and refuse the money of tax evasion with a criminal liability for the banker that would help tax evasion provided that there is no loophole like the word "knowingly" in the Luxembourg AML legislation. This may be a new mission for bankers in Switzerland.
As far as Luxembourg is concerned, the word "duty" definitely raises a problem of a moral nature all the more than Luxembourg is member of the European Union.
As far as the implementation of financial regulations and the fight against tax evasion are concerned, it seems that there is another Member State that is not a fair European player: The United Kingdom.
But there is a huge difference with Luxembourg: in the United Kingdom, there are critics, either professionals or from the university, of the abuses.
In Luxembourg where there is the quasi-continuous presence of the Christian-social party (PCS/CVS), with the power since 1945, neither professionals nor the university, call into question the dysfunctions. Only the Cercle de Cooperation raised relevant questions.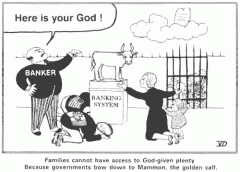 Source of the picture www.michaeljournal.org - "Michael" Journal, 1101 Principale St., Rougemont, QC, Canada J0L 1M0. Tel: (450) 469-2209.