07/05/2009
Organisational requirements: the Luxembourg fallacious transposition and communication
The working paper observes that "on the rules applicable to conflicts of interest, the amended UCITS Directive only sets principles of separation and ethical independence between the fund manager and the depositary in particular, Article 25 of the amended 85/611/EEC UCITS Directive - which reproduces the existing Article 10 of Directive 85/611/EEC – provides that: 'no single company shall act as both Management Company and depositary (…) in the context of their respective roles the management company and the depositary shall act independently and solely in the interest of the unit-holders'. Depositaries may face situations where they can no longer ensure that they act solely and exclusively in the interest of unit-holders."
The so-called clear and pragmatic rules in Luxembourg do not require that no single company shall act as both Management Company and depositary.
UBS actually cumulated many roles and especially the one of Management Company and the one of depositary, which is prohibited by the directive, but authorised by the
Luxembourg
law. In the prospectus (and the simplified prospectus), it was at the same address: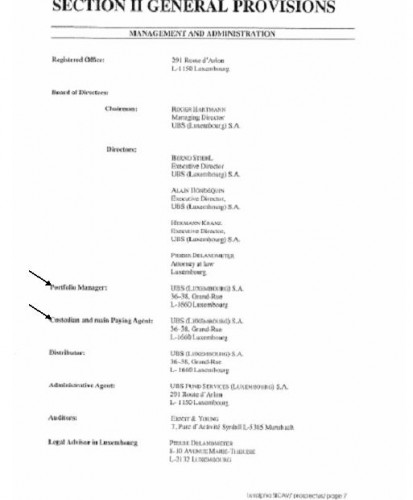 NB: In French documents Custodian is translated by Depositary.
The Requirement to prevent conflicts of interest, and especially the one of Management Company and Depositary that is explicitly stated in the UCITS Directive, was definitely dropped in Luxembourg despite a communication on the faithful transposition of the UCITS directive