04/05/2009
The mask fell: Luxembourg pressure on the OECD at the great day (update)
The Luxembourg government published a letter from Angel Gurria to Luc Frieden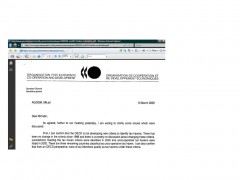 By publishing this letter the Luxembourg government shows how politics influence the OECD policies:
Let's read a couple of paragraphs:
I can confirm that the OECD is not developing new criteria to identify tax havens

I can also confirm that from an OECD perspective, none of our Members qualify as tax havens under these criteria

In formulating their requests, competent authorities should demonstrate the foreseeable relevance of the requested information. It would, for instance, not be possible for a State to request information randomly on bank accounts held by its residents in banks located in the other State.

This is definitely a political fault as it is an awkward operation that is intended to make pressure on the OECD to prevent any sanction against Luxembourg and any evolution to the OECD criteria.
It is not the first time that the Luxembourg government
makes public a letter
to make pressure. Last October, Arlette Chabot, information director for French TV station France 2, had written an apology to the Luxemourg Prime Minister, Jean-Claude Juncker, after her station suggested that not all is well in the jurisdiction. The letter was not intended to be public and Arlette Chabot was surprised. The communication was intended to discourage questions on Luxembourg
As far as the publication of Gurria's letter is concerned, it allows Luxembourg not abide by the commitments taken as none of the OECD Members qualified as tax havens when the letter was written all the more than the OECD is not developing new criteria to identify tax havens.