02/07/2009
The evidence of words and the standardized lie
Whereas on the one hand the CSSF has just made a concise official statement announcing that it finished its investigations, and that it has agreed with UBS to "cooperate in their efforts to determine the relevant facts and define the way forward in close conjunction with all others who are affected by the events in order to find a solution as soon as possible" and on the other hand the official statements (Minister of Justice, CSSF, ALFI...) claim that the legal and regulatory framework in Luxembourg complies with the European directive, I am afraid that everyone in the business in Luxembourg is not telling the truth for something that is very easy to check with a synoptic table of the transposition.

Two critical provisions in the directive to protect the investors have been knowingly removed because of influences from the financial sector (lawyers, auditors, banks) like for any topic in the name of pragmatism.

The two paragraphs are the following.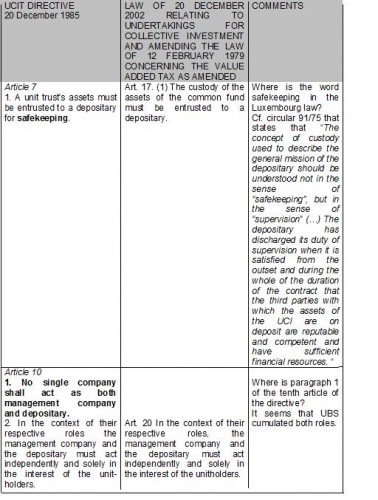 The full synoptic table may be downloaded by clicking
here
.
As long as the leaders either politicians or professionals that do not tell the truth on things easy to check will not have been changed in the jurisdiction there will be an unquestionable risk for the investors.
The communication was and is pitiful : they did not make amend.
Those in place do not have anymore credibility.